What types of bird netting are there?
Bird netting is one of the most effectual bird proofing solutions to remove and prevent the return of pest birds from a site or location.
With bird netting able to be installed on large expanses such as roofs, multi-storey car parks, listed buildings, canopies, balconies, stadiums, hotels and more, it is especially effective in urban areas.
This makes bird netting virtually the only bird deterrent system that can be used with 100% confidence in places where birds are nesting, or roosting at night by placing a physical barrier between the pest bird and its destination.
Additionally, it is also a cost-effective bird proofing method for a variety of nuisance birds from pigeons and gulls to sparrows and starlings, but what type of bird netting should you use?
How is bird netting made?
Bird netting is made from extruded 630 denier (0.3mm thick) high density polyethylene (HDPE) monofilament. The HDPE is created from melting beads or granules and then mixed with any additives.
These additives can include colour pigments to produce different coloured bird netting to blend with the surroundings or a building's façade. Choosing the right bird netting colour can ensure the netting is virtually invisible when installed, especially if there is to be netting in front of windows.
Ultraviolet filters are also added to enable the bird netting to withstand a range of environmental conditions and of course flame-retardant ingredients for safety.
When finished, bird netting twine is approximately 1mm in diameter, with a breaking strength of 14kg, but when knotted together to make a net this strength is further increased.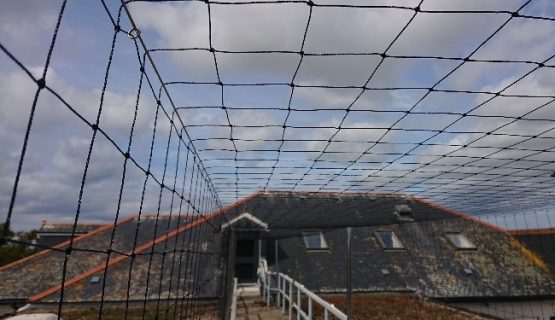 Types of bird netting
Selecting the type and mesh size of bird netting depends on the type of pest birds, it is recommended to have 75mm for seagulls, 50mm for pigeons, 28mm for starlings and 19mm for sparrows.
Using a larger mesh size may reduce the costs and weight of bird netting, but to ensure the success it must be the appropriate size for the pest birds concerned. If there are more than one type of nuisance bird, then the smallest species mesh size should be installed.
Installing bird netting
As a professional bird proofing company, our highly experienced bird netting installation teams recognise that careful planning and installation are crucial.
Understanding the detailed technical specifications for the right netting system varies from each installation. This also includes advising on the type of mountings and fixings required for the substrate you are fixing to, which is why the surveying and planning phase is so important.
When installing bird netting, we can keep the cost down by using rope access teams when dealing with high multi-storey installations, where powered access cannot be used. This removes the need for expensive and unsightly scaffolding.
How long does bird netting last?
When implemented and maintained correctly, polyethylene knotted bird netting can have a working life of 10 years or more.
If you are looking for an experienced bird netting company, we can provide a comprehensive survey with a risk assessment on the type of bird netting required, tailored to your business and the particular needs and budget of your site.
Get in touch with our friendly team of pest bird control experts today or call us on 0333 567 2020.