What is the best pigeon scarer?
If you have a pest pigeon problem, you'll know first-hand how destructive and damaging that can be. It can have a major impact on your business and be a serious health hazard.
Finding the best pigeon scarer and bird deterrent to humanely remove and keep pigeons away to solve your pigeon dilemma is a common question we get asked.
Pigeon deterrents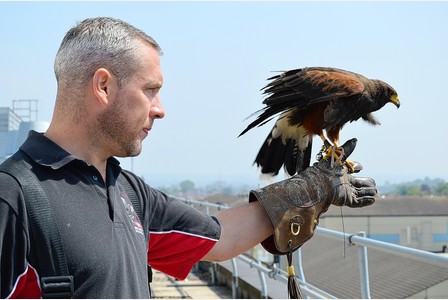 The first stage is to move on the pigeons by deterring them from nesting and roosting where you don't want them. There are several pigeon pest control methods which work very effectively.
Falconry – Hawk deterrent for pigeons is a natural method of bird control. Falconry uses hawks which are natural predators of pigeons to encourage the pest pigeons to move to a safer home. This pigeon deterrent is good for large areas such as farmland and industrial estates.
Repellents – Also known as bird free gel

, this pigeon deterrent works by emitting an ultra violet light, which appears as flames to birds. This is totally non toxic and harmless but

also has natural oils' which smell and taste abhorrent to pigeons. Bird repellent gel can be installed where it's difficult to use other methods of bird control.
Electric Deterrents – Whilst an electric deterrent may sound harsh, it is similar to electric fencing used for livestock and gives pigeons a small shock when they land on the track. This encourages the pigeons to move elsewhere to land and nest. It is particularly useful for ledges and beams.
Pigeon proofing
When it comes to pigeon pest control, and once you have scared pigeons away, pigeon proofing an area or building ensures that the problem doesn't return. Utilising responsible bird control solutions which comply with all health and safety regulations will guarantee further peace of mind.
Bird Netting – With 100% confidence, bird netting can be used to keep pigeons from roosting or nesting where it is installed. Furthermore, installation is simple, and netting is also one of the most affordable methods of pigeon proofing.
Bird Wire – Being almost invisible, bird wire

is a popular method of pigeon and bird control in towns and cities across the UK. Humane, cost effective and extremely versatile, it prevents thousands of pounds worth of damage to buildings and structures.

Bird Spikes – Don't be put off by the name, bird spikes, like all the types of pigeon proofing using by professional bird control companies are harmless to the birds. They work

as

a physical barrier to the birds without hurting them, you can read more about how they work in our article - Do Pigeon Spikes Work?
Whether you are looking for pigeon deterrents or pigeon proofing advice, talk to your local NBC bird control team by calling free on 0333 567 2020. They will be happy to answer any questions you have and if appropriate book a survey to ascertain what the best pigeon scarer will be for your pigeon problems.