Does pest control work for birds?
Birds are beautiful creatures, but they can also be pests. They can leave unwanted droppings around your business and even cause damage to your property. Bird pest control services are a great way to scare off birds from areas where they might cause problems.
There are several different types of bird pest control including traditional methods like bird netting as well as more innovative techniques such as falconry bird control and laser bird control.
The first step to dealing with a bird problem is to determine whether you actually have one. If you notice droppings from birds on your property, this may be an indication that there are also nesting and roosting sites nearby. Bird pests can cause damage to your home or business in several ways:
Pigeons and other wild birds can carry ticks, fleas and other parasitic insects that can spread to people. These insects live on the birds and in their droppings leaving the parasites to move into buildings in search of new food sources.
Bird droppings, feathers and nesting materials can block gutters and cause damage to roof materials, which in turn causes leaks. Corrosive bird droppings are particularly damaging, not only to building materials but also to any plant machinery on roofs and solar panels.
Pest birds can spread diseases through their droppings and feathers. Some of the most common illnesses caused by these factors include Salmonella, histoplasmosis, cryptococcosis, and psittacosis.
How does bird control work
Pest control for birds works by deterring them away from the area, keeping them out of the area, or removing them all together. In order to do this, there are a variety of different methods used to deter pest birds, depending on the type of bird problem you have and the site or building you are wanting to protect.
These include traditional methods like bird netting and bird wire, which are popular choices for buildings in towns and cities, to more innovative methods such as falconry bird control and laser bird control that can be useful in more open spaces.
Proof bird pest control works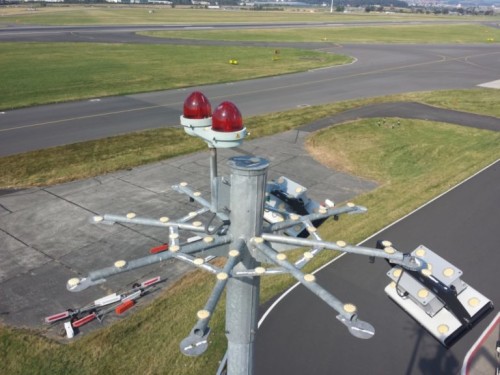 Glasgow airport, one of the busiest airports in the UK, reported that Starlings had begun flocking to the airport and using the lighting columns to roost. This posed a significant risk to flight safety as bird strike can have devastating results, so NBC was contacted to employ their airport bird control methods.
Bird gel, an organic substance with UV properties designed to deter birds, was affixed to the light columns to ensure that the Starlings had nowhere to roost. The bird gel works by utilising the bird's optical senses, which sees the gels UV properties as fire and scaring the birds away. The gel also has additional ingredients to deter birds by touch and smell, if any are brave enough to get close.
As the UK's leading bird control company, bird proofing your business is a cost effective and essential solution if you have pest birds.
If your business is experiencing issues with nuisance birds, book a site survey tailored to your business and location or get in touch with our pest bird control experts today or call us on 0333 567 2020.